HANDMADE HOLIDAYS 2012 - Shop Link Party
Posted November 14, 2012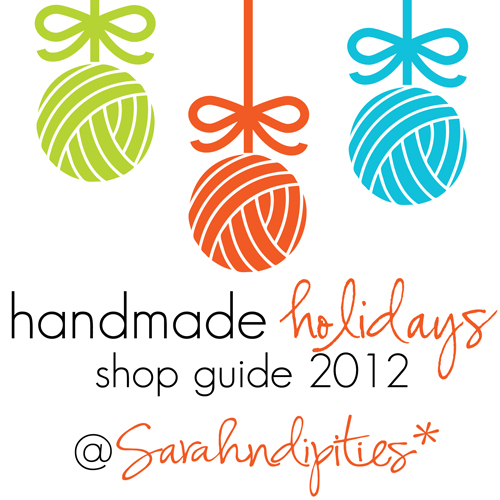 I LOVE buying handmade items for gifts! There's something so wonderful and personal about giving a gift that has hours of time and thought put into it, don't you think?
Each year my hubby and I give our kids handmade gifts for Christmas, whether made by me or him...or by someone else...it's been a great tradtion in our little family. We decided a long time ago that we like the simplicity of handmade gifts...and the special personal touch that accompanies them. My kids love to make thngs for each other, too.
Needless to say, I'm always on the look out for great handmade gifts!
Last year I started a Handmade Holiday Shop Link Party, and had so much fun looking through all of the wonderful shops and items linked up! I enjoyed it so much that I'm continuing the tradition this year!
Do you have an online shop where you sell your own handmade items? Please feel free to link up below!!
I'll be spotlighting a few of the shops that catch my eye here in the next couple of weeks, too, so spread the word!
A couple of reminders:
This link party is for ONLINE SHOPS (like Etsy, etc) that sell HANDMADE ITEMS ONLY!
Please link up your shop URL...no blog posts please!
Use your SHOP NAME as the title of your link!
I'll be leaving this link list open until January, 1st 2013...so be sure to check back often, as I hope there will continue to be new great shops added every day throughout the holidays!

» Share: