Things to Make: Crochet Poppy Remembrance Pin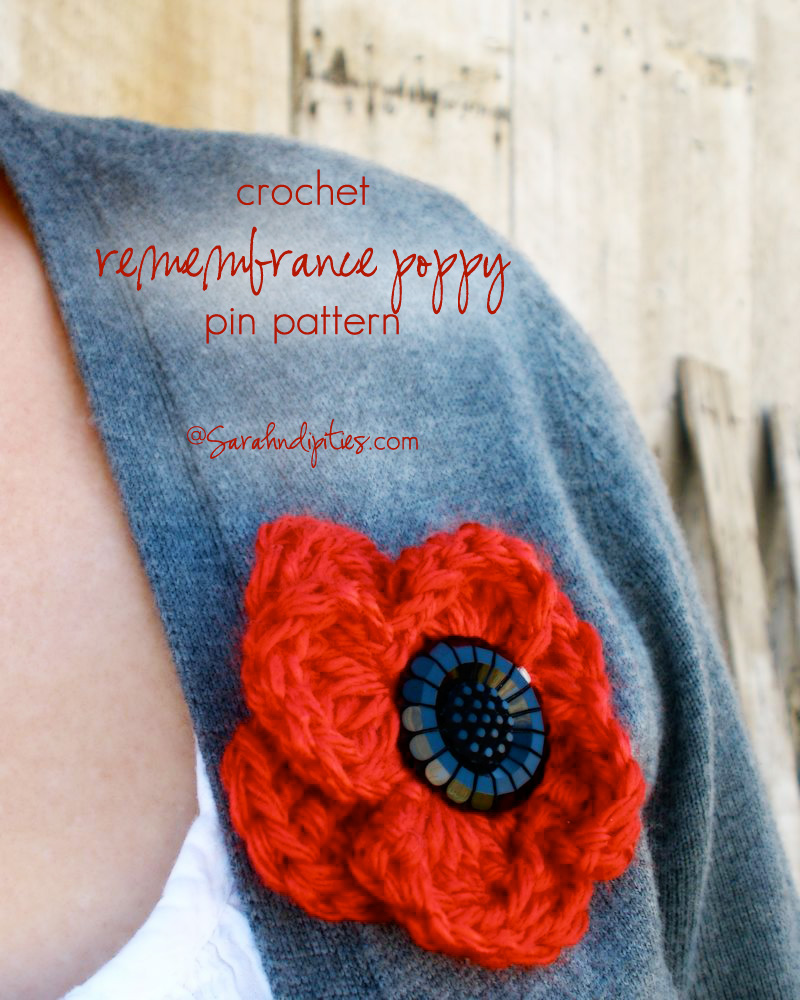 In honor of Veteran's Day here in the US, Armistice Day in the UK, and Remembrance Day in France, I put together this simple little crochet poppy pin pattern.

Hope you will enjoy the pattern...and wear a poppy to remember all of the men and women who have sacrificed their lives for the freedoms of others.

CROCHET POPPY PATTERN

Materials:
Small amount of red worsted weight yarn - medium weight (4) (I used Caron Simply Soft in Harvest Red!)
Crochet hook - size H (5.00 mm)
Tapestry or yarn needle
A black button
Hot glue

A small circle of felt

Pin back
Abbreviations:
ch = chain
sl st = slip stitch
sc = single crochet
trc = treble crochet
rep = repeat
st = stitch
sp = space
rnd = round
beg = beginning
This pattern is written in Standard American terminology and is worked in rounds.
Ch 4, join with sl st to from a ring.

Rnd 1: Ch 1, sc 6 times in ring, join with sl st to beg sc. (6 sc)

Rnd 2: Ch 1, 2 sc each sc around, join with sl st to beg sc. (12 sc)

Rnd 3: *Ch 3, 5 trc in same sp, ch 2, sk next 2 sc, sl st in next sc.* Rep from * to * around. (4 petals made)

You can fasten off here, or for a double-petaled flower continue on Rnd 4.

Rnd 4: Working behind petals from previous rnd, sl st to first unworked sc on previous rnd. *Ch 3, 5 trc in same sp, ch 2, sl st in next unworked sc of previous rnd.* Rep from * to * around. (4 petals made)

Fasten off, leaving a long tail. Using the long tail of yarn sew a black button to the center of the poppy. Fasten off, and weave in ends.

Sew the pin back to the small circle of felt. Hot glue the felt to the back of the finished poppy.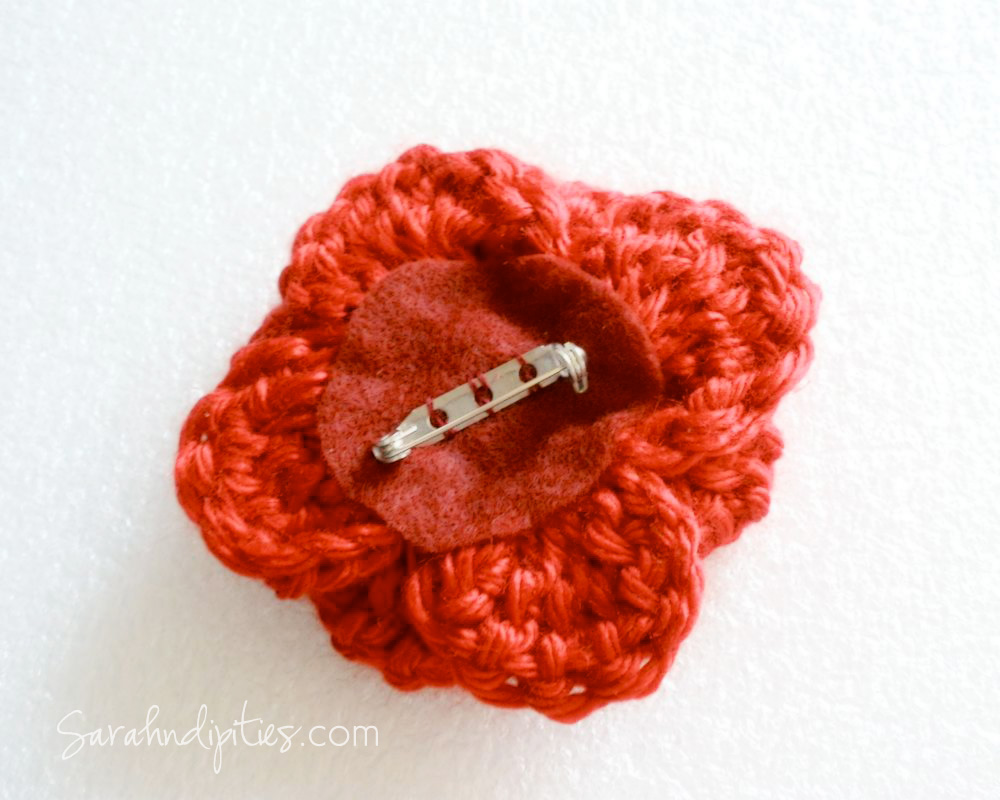 Wear your remembrance poppy with pride!

Enjoy the pattern, and feel free to make as many of these as you would like, but please keep in mind that this pattern is intended to be used for personal use only. Do NOT sell or rewrite this pattern in any form to sell.
In Flanders Fields



In Flanders fields the poppies blow
Between the crosses, row on row, 
That mark our place, and in the sky, 
The larks, still bravely singing, fly, 
Scarce heard amid the guns below. 

We are the dead; short days ago
We lived, felt dawn, saw sunset glow, 
Loved and were loved, and now we lie
In Flanders fields. 

Take up our quarrel with the foe! 
To you from failing hands we throw
The torch; be yours to hold it high! 
If ye break faith with us who die
We shall not sleep, though poppies grow
In Flanders fields.


» Share: