Things to Make: Crochet Snowflake Star Garland - Free Pattern!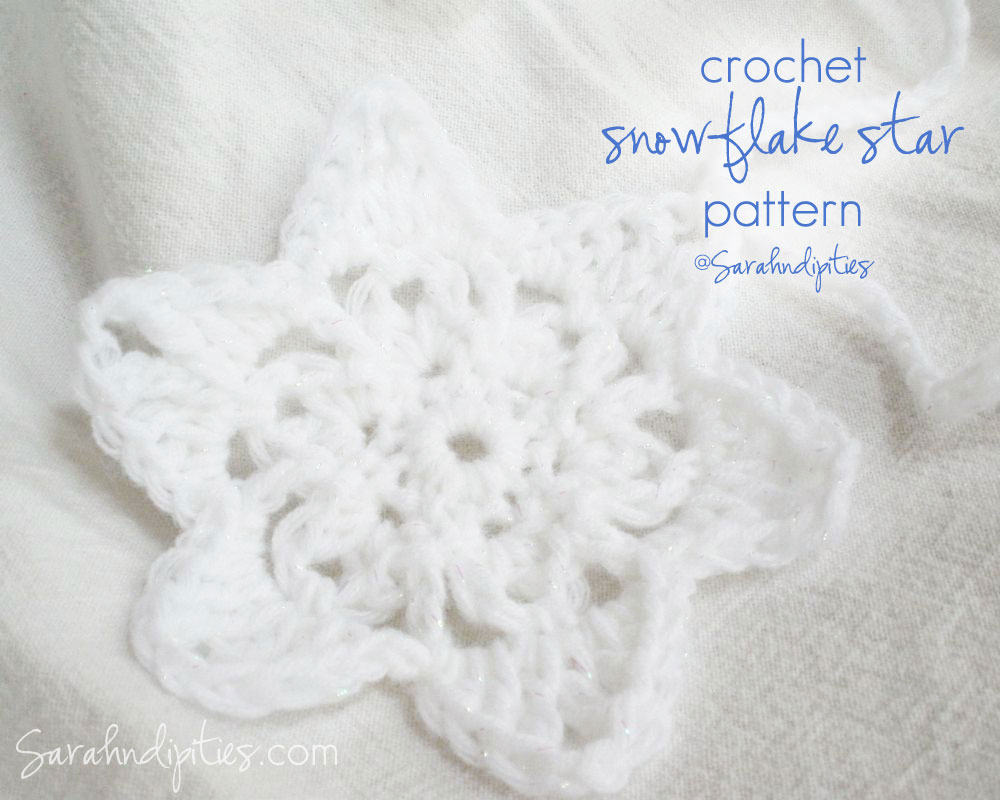 I've been so busy working on things for my business and family, that I haven't had much time to post any of my new projects lately! Well, I'm trying to get back in the swing of things and so I'm posting this cute little snowflake garland pattern today!
Even though I am LDS, when I was growing up, my parents always tried to expose us to lots of culturally diverse experiences. My grandmother (on my dad's side) was Jewish, and so my parents decided that when we were children we would learn about and celebrate Hanukkah! And we did - every year!
I have some wonderful memories of the family lighting our menorah, playing dreidel, and eating latkes! As a mother now myself, I've tried to continue some of those traditions with my own children. This week we'll be enjoying some yummy latkes and gold chocolate gelt!
This weekend marked the start of Hanukkah celebrations, and I wanted to create a fun decoration for our home, to help set the mood!
I'd been looking around for a simple crochet snowflake pattern for quite some time, and hadn't found one I liked well enough...so I decided I'd combine a traditional Star of David and snowflake to make my own unique version!
After a little trial and error I whipped up this garland in no time! Here's the pattern for my:
Crochet Snowflake Star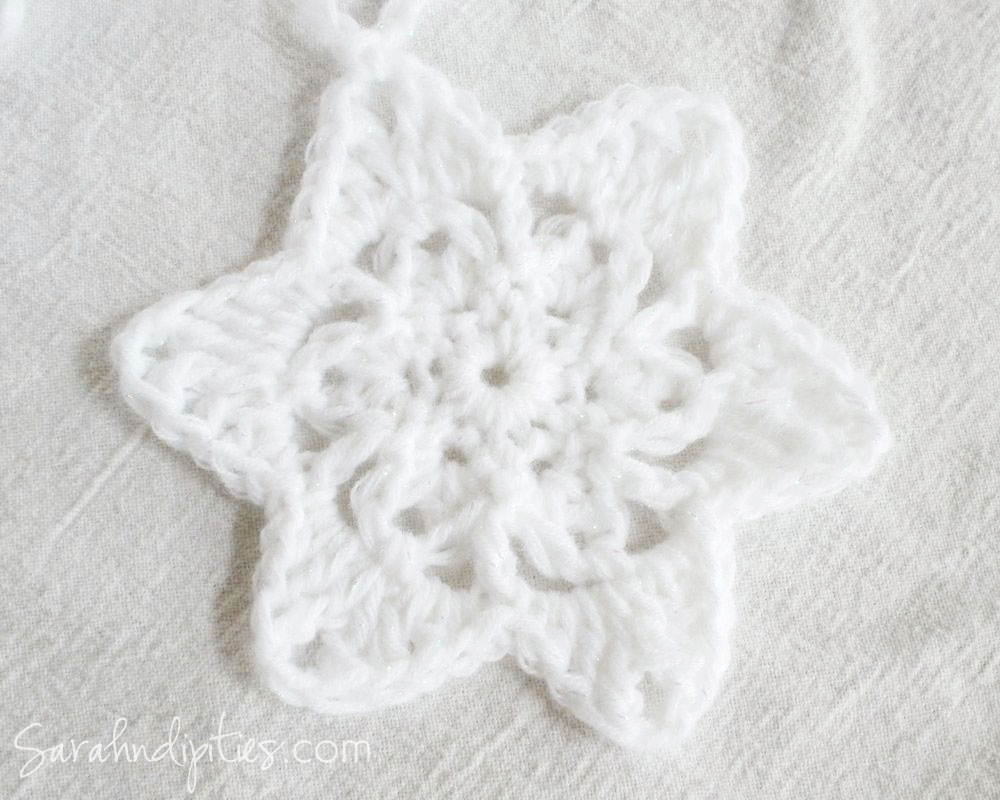 Materials:
Worsted weight yarn - medium weight (4)
(I used Red Heart Shimmer in Snow...I love that it has little threads of iridescent sparkle throughout! But I also think a pretty pale blue would lovely, too!)
Crochet hook - size I (5.50 mm)
Tapestry or yarn needle
Abbreviations:
ch = chain
sl st = slip stitch
sc = single crochet
hdc = half-double crochet
dc = double crochet
trc = treble crochet
rep = repeat
st = stitch
sp = space
rnd = round
beg = beginning
This pattern is written in Standard American terminology and is worked in rounds.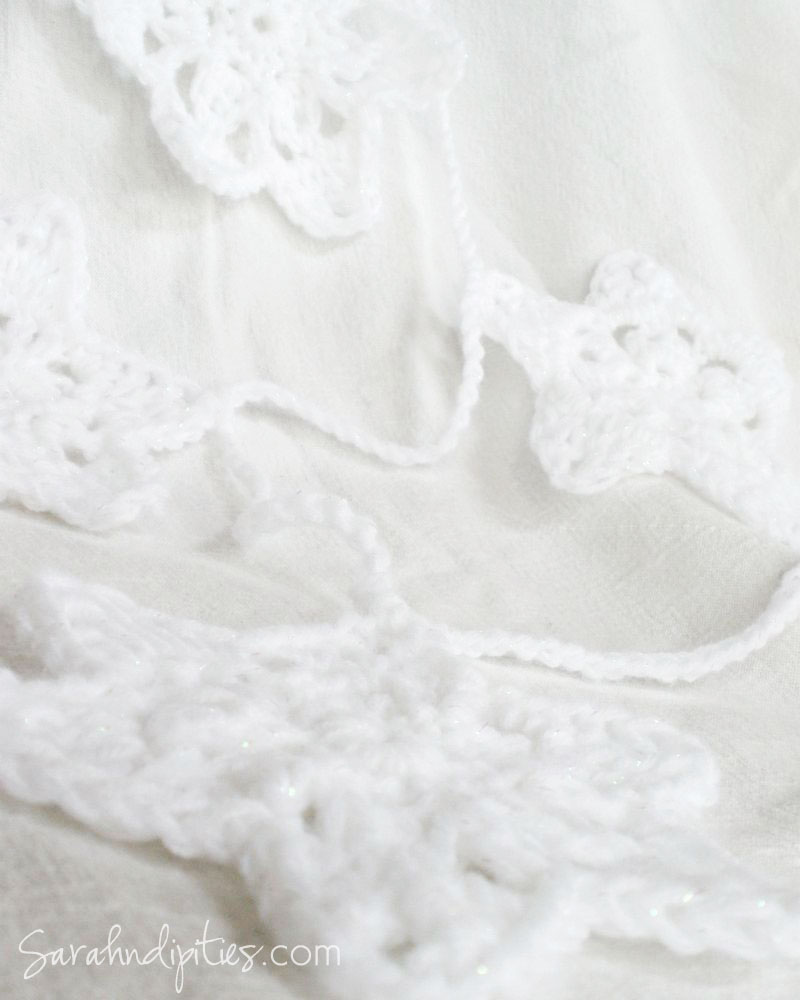 For the Snowflake Star:
Ch 4, join with sl st to first ch to form a loop.
Rnd 1: Sc 12 times in loop. Join with sl st to first sc.
Rnd 2: *Ch 3, sl st in next 2 sc.* Rep from * to * around. (6 loops made)
Rnd 3: *(Working in loop: sc, dc, ch 2, dc, sc) sl st in next st.* Rep from * to * around. (6 points made)
Rnd 4: Ch 5 (counts as dc, ch2), *sc in top of point, ch 2, dc in sl st from previous rnd, ch 2.* Rep from * to * around to beginning. Sl st in 3rd chain of beg ch 5. (12 ch 2 sp made)
Rnd 5: *Working in ch 2 sp: sc, hdc, dc, (trc, ch 2, trc in sc from previous rnd), dc, hdc, sc. Sl st in dc from previous rnd.* Rep from * to * around, ending with sl st in last st. (6 points made)
Fasten off, weave in ends. Make as many snowflakes as you would like! (At this point you could starch your snowflakes so that they stay stiff, but I didn't bother.)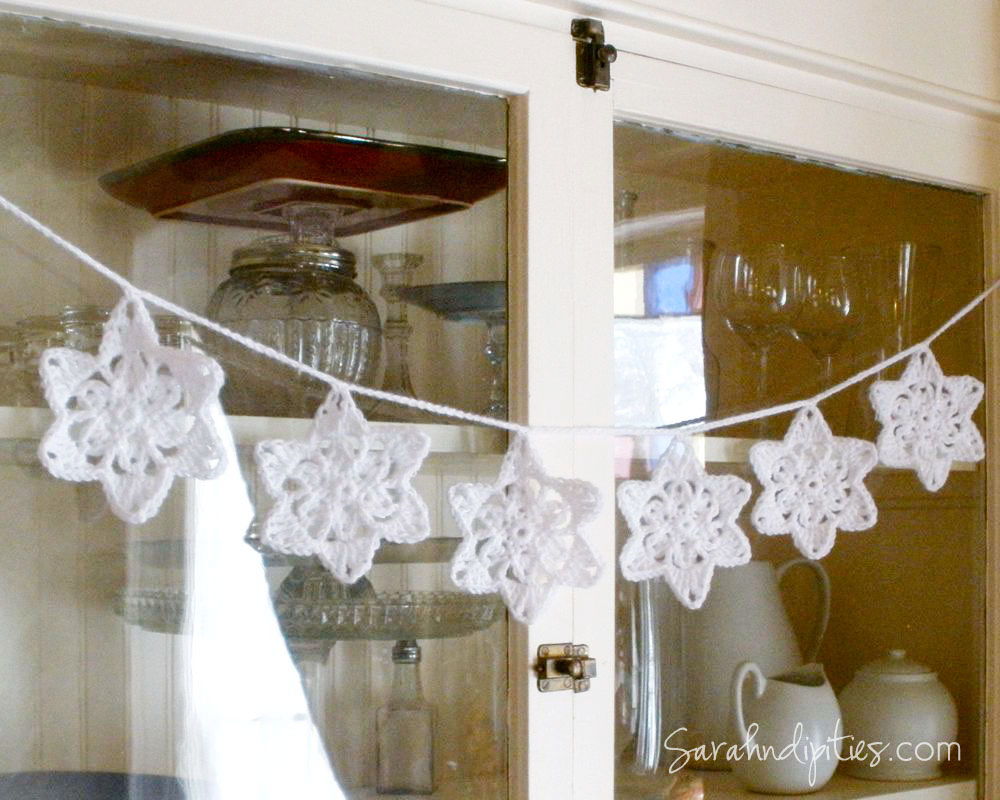 For the Garland:
Ch 40, *sc in point, ch 20.* Repeat from * to * as many times as needed to joing all of your snowflakes together, then ch 40 and fasten off.
I love the way this pattern turned out! I may make a bunch of these guys to hang on our christmas tree, too!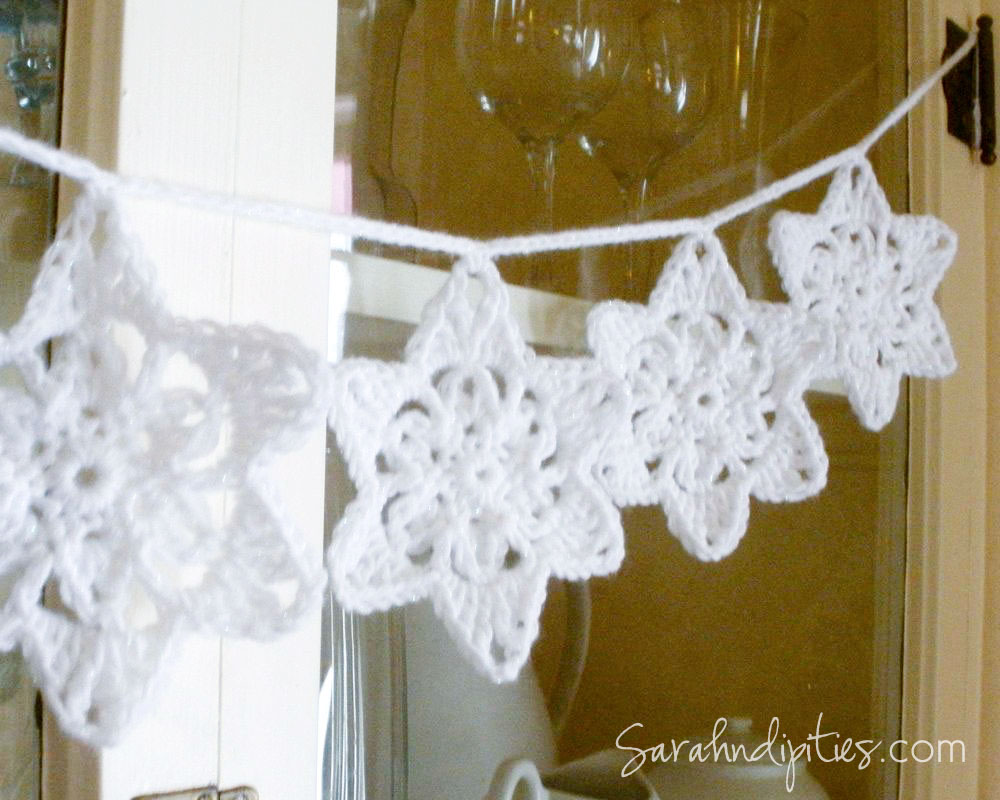 You can download this pattern in PDF format for free by clicking the link below:
Crochet Snowflake Star Garland Pattern PDF
Happy Hanukkah!!

Enjoy the pattern, and feel free to make as many of these as you would like, but please keep in mind that this pattern is intended to be used for personal use only. Do NOT sell or rewrite this pattern in any form to sell.
» Share: